Meet the next generation of trade tech
3Forge is revolutionizing the way investment firms control their entire trade flow.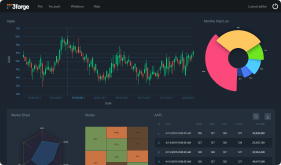 HOW WE'RE DIFFERENT
We exist to bring you peace of mind about your data.
Leave the data where it is

You don't need to move data; you need the right platform to tie it all together.

Ensure data accuracy

Your data is critical for strategic decision making, marketing, compliance, and customer consumption.

Invest in scalability

We believe the storage, blending and, consumption of data is a fluid process of continuous improvement.

Expect simplicity

We are committed to making data analytics and workflow management intuitive and accessible for our customers.
WHAT OUR CLIENTS SAY ABOUT US
As a leader in electronic trading, we recognize the importance of independent bench-marking. STAC applies the type of rigor customarily limited to transactional systems to real-time dashboards and analytics. This provides us with the ability to monitor, analyze and effectively act on massive sums of moving data, which is central to our business, and the 3Forge browser-based platform has continued to provide strong reliability as the sophistication, performance and volume of our trades increase year over year.

Morgan Stanley

Hank Hyatt

Managing Director and Global Head of Algorithmic Trading Technology
Tableau has what I like to call 'Exponential Performance Issues' because it can't perform basic database type calculations.

Morgan Stanley

Anonymous
3Forge has provided us with unmatched suppport for years.

Smart Finance

Tracy Collins

CoFounder & CEO
Much more powerful than Datawatch in terms of what you can visualize.

Tier 1 Investment Firm

Technology Analyst
AMI provides a critical view into our data.

Boltzmann PV

Alan Parker
AMI is essential for power users.

12Sided

Peter Nabicht
Start your
AMI experience today
Whether you have a small business or a global enterprise, AMI helps you see immediate insights to drive maximum impact.